HMS Franklin
Oil painting, private commission. Her service began in 1938 and she spent the war as a survey ship. But between surveying tasks, or when moving from one to the next, HMS Franklin was often called upon to act as a convoy escort. It was during the North Sea escort duties that my customer's husband was one of the crew and the painting was created in memory of the ship and as a gift to her husband who fortunately survived the war.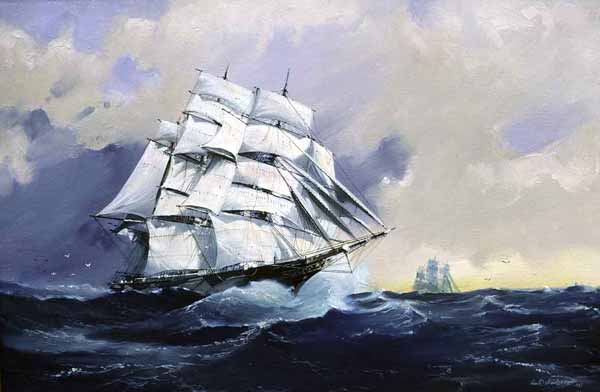 Cutty Sark
Oil painting. The Cutty Sark is the most famous tea clipper built, and is the only one to survive. She is now preserved at Greenwich, London and having survived a near disasterous fire in May 2007 she should re-open to the public by 2012. She was launched in 1869, and her enormous area of sail made her the fastest ship in the race via the Cape of Good Hope for the then highly profitable (if your cargo arrived first!) tea trade. Unluckily for her owners, the Suez Canal was opened in the same year as her launch, which is not navigable by sailing ships! Her last cargo of tea was carried in 1877.

I enjoy painting ships as much as railways, and this painting was produced as a seascape sample for one of my exhibitions.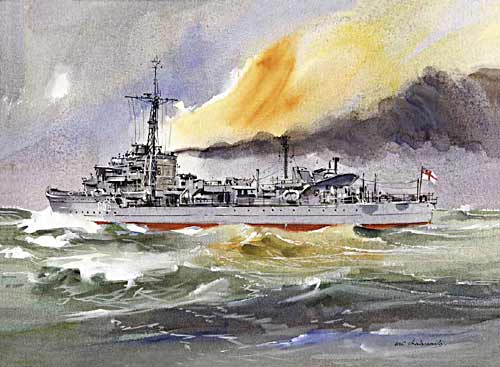 HMS Petard
Watercolour, private commission. Completed in June 1942, this 'Paladin Class' Destroyer had an almost unrivalled war service. She was involved in sinking submarines of the German, Italian and Japanese navies as well as playing a significant role in defence of Malta convoys. Reduced to Reserve status in 1946 and laid-up until 1953, she was converted to a Frigate by 1955 - and again put in Reserve. She was re-commissioned in 1960 and finally disposed of in 1966. Because of her long career, I have now had four people contact me as they, or their father, had served on her.
Prints are available.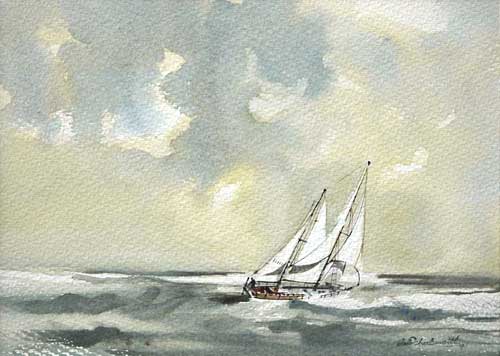 Sailing
Painted more for showing sea and sky than the vessel. Watercolour is a wonderful medium for big sky's.



Galleons at war
Oil paintings depicting scenes from battles fought by Nelson and Francis Drake. Most of these were painted at the end of the 1970s and early 1980s for private collectors. Within 25 years, all were owned by just one of them!