Batasia Loop

Bomaby Ghats

Tindharia Shed

Nottingham Sherwood Tunnel
A Standard 9F, with a "windcutter", so called because of the incredibly efficient out-and-home runs by performed by the GC drivers, on these loose-couple coal trains. This is another railway that should never have been closed. The Great Central and Nottingham Victoria. Unbelievably, this actual site is now a housing estate!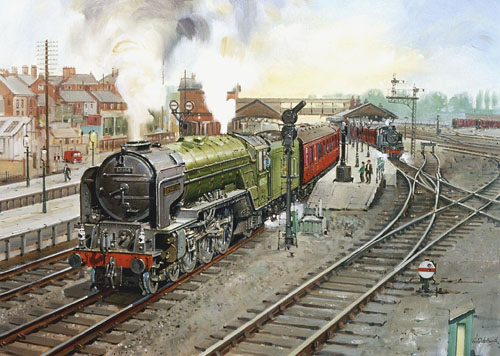 A1 at Grantham
Another special commission to remember happy days in the past. As no A1's were preserved, not in our wildest dreams did we ever think it would be possible to see this scene again in real-life, but with the brand-new A1, 'Tornado', I have to believe in miracles.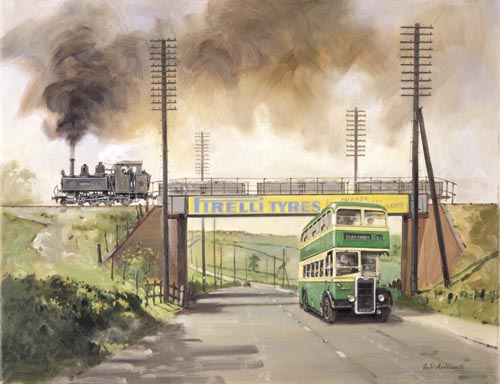 Ashover Light Railway
This painting was created as a fund-raising gift for a local charity and is now a talking point at a Nursing Home for the Elderly in Clay Cross, Derbyshire. The painting also includes another love of mine, old buses! The Ashover Light Railway ran from Clay Cross to Ashover and was built to carry stone from the quarry to the works. A hard-working group of enthusiasts are searching out remains with the aim of reopening a section. Check out the Ashover Light Railway Society at www.alrs.org.uk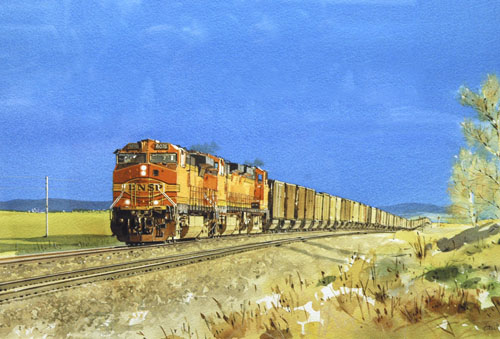 BNSF
A watercolour commission based on the customer's own photograph.
Can be bought as an artist-signed ink-jet (giclée) print. Size up to 24in (600mm) wide. £18 + Post and Packing for UK £3.50 (other areas please ask).
Also available while stocks last, as an A5 Christmas card suitable for personal overprinting. Ask for details.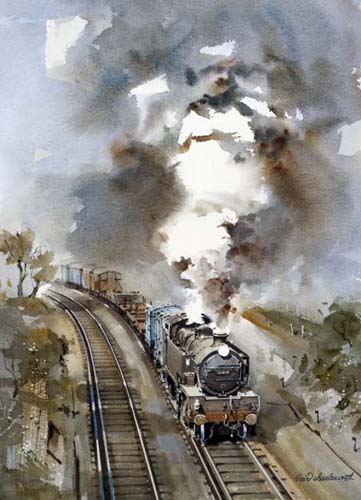 Class W
From the moment I finished this painting, it has been my favourite watercolour for a railway subject. I sometimes wish I had never sold this one.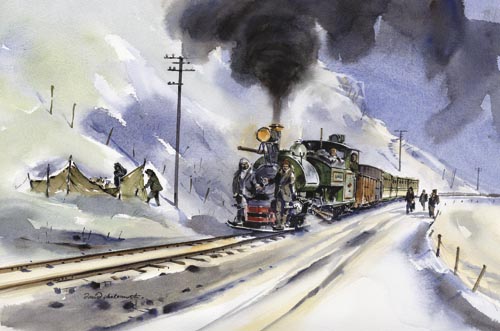 Darjeeling B class SNOW
Darjeeling snow in 1948. This was first published in the Darjeeling Mail (a quarterly magazine I edit and produce) in November 2002 and was so well received we used it for Christmas Cards. Surprisingly, snow is not common in Darjeeling.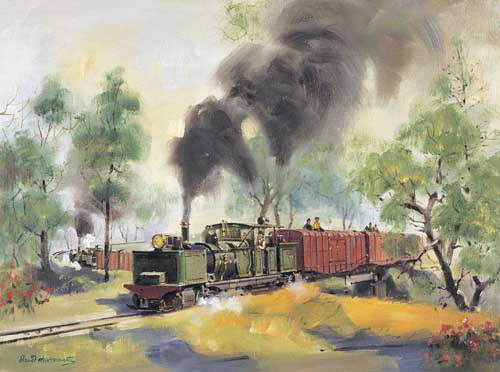 DHR GARRATT Agony Point
The unique Darjeeling Garratt at Agony Point. A great idea on paper, it never came up to expectations. The twists and turns of the DHR track upset everything from valve settings to steam joints. It could haul an impressive load on the less mountainous sections, but the DHR already had the successful 'C' class for its two branch lines.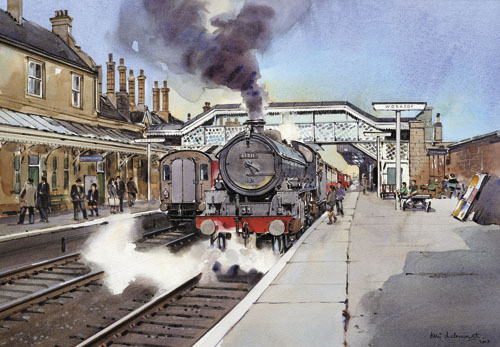 Worksop Station
B1 61211 at Worksop Station in the early 1950s. Commissioned to preserve childhood memories of happy days trainspotting. Surprisingly, the station is still open and has changed very little.
Can be bought as an artist-signed ink-jet (giclée) print. Size up to 24in (600mm) wide. £18 + Post and Packing for UK £3.50 (other areas please ask)